Translate page into: español, Deutsch, français, italiano, português do Brasil, polski, română, русский, Nederlands, norsk, svenska, suomi, हिन्दी, ਪੰਜਾਬੀ, Tagalog, తెలుగు, Afrikaans, isiZulu, Kiswahili, 中文, Ikinyarwanda, ikirundi
Click on headings to expand them, or links to go to specific articles.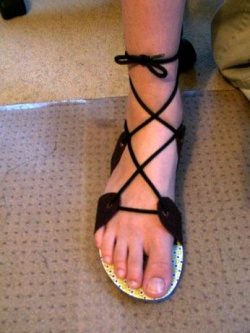 William Branham constantly pointed at clothing, particularly women's clothing, as being immoral. This included women wearing open-toed shoes.
What's very strange is that in Bible times, the only shoes that were generally worn were sandals, which were all generally open-toed.
Would William Branham think that Mary, the mother of Jesus, and basically all of the women mentioned in the Bible were all dressed in an immoral fashion?
Quotes of William Branham
Footnotes