Click on headings to expand them, or links to go to specific articles.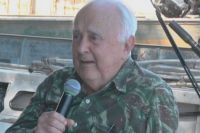 News reports from Brazil in 2021 indicated that message pastor Joaquim Gonçalves Silva was accused by a number of women for sexual improprieties and abuse of power between 2002 and 2021.
It also appears that Billy Paul Branham was aware of the sexual misconduct of pastor Joaquim Gonçalves Silva in 1998.
Pastor of the Tabernacle of Faith is investigated in Brazil for sex crimes
June 10, 2021
Four women, including a teenage girl, denounced Pastor Joaquim Gonçalves da Silva. Cases would have occurred between 2002 and 2021
Goiânia - Pastor Joaquim Gonçalves da Silva, 85, was indicted by women, including a minor under 17, for alleged sex crimes. He works in the Tabernacle of Faith church in Goiás, and there are open investigations in the Public Prosecutor's Office of Goiás (MPGO) and the Civil Police (PCGO).
The cases would have happened between 2002 and 2021, during the pastor's service inside the church, which is in Goiânia. His defense denies the charges and says it's a story created to try to remove him from church command.
According to the portal G1, at least four women would have registered complaint against the pastor. The most recent case was that of a 17-year-old girl, who is being investigated in secret by the Child and Adolescent Protection Police (DPCA).
Suspected sex crimes against faithful, pastor dies of Covid in GO
August 2, 2021
Joaquim Gonçalves Silva, of the Tabernacle of Faith Church, died after a cardiac arrest; the religious has always denied the accusations of abuses
Goiânia – Accused of sexual crimes,the evangelical pastor of the Tabernacle of Faith church,Joaquim Gonçalves Silva, 85 years old, died in the early hours of Monday (2/8), in the capital of Goiás, as a result of Covid-19. He couldn't resist a cardiac arrest. The information was confirmed by the secretariat of the congregation.
The pastor had been hospitalized since july 23, when he tested positive for the coronavirus,days after being admitted to the hospital. According to the congregation, Joaquim was in treatment for ten days, however, with the worsening of the case, he had progressed to heart problems.
Two weeks before his hospitalization, the pastor attended a service at the church he commanded. At the time, on July 11, members of the congregation and trustees presented information on allegations of sexual crimes and defended the history of the religious.
The ceremony was broadcast on the church's website. The images indicate that the trusts did not respect social distancing during the cult and provoked agglomeration. Also through the video, it is possible to notice that most people wear protective masks against Covid-19.
Billy Paul Branham was aware of sexual improprieties in 1998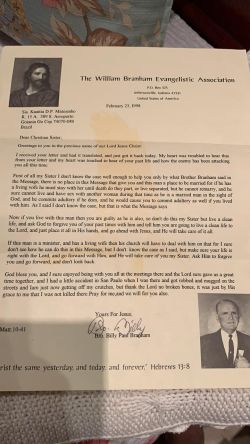 We have a copy of a letter that was written by Billy Paul Branham to a woman who was living with Joaquim Gonçalves during the 1990's. She tried to reach out for help but the letter was all she apparently received. It appears that Billy Paul Branham did nothing other than to write a letter to this troubled woman.
We do not have a copy of the letter that she wrote to Billy Paul Branham, but it is obvious that she confided in him regarding the situation she was in.
Text of the letter
The William Branham Evangelistic Association PO. Box 325 Jeffersonville, Indiana 47131 United States of America
February 23, 1998
Sis. Kaaitia D.P. Matozinho R. 15 A. 389 S. Aeroporto Goiania Go Cep. 74070-080 Brazil
Dear Christian Sister,
Greetings to you in the precious name of our Lord Jesus Christ:
I received your letter and had it translated, and just got it back today. My heart was troubled to hear this from your letter and my heart was touched to hear of your past life and how the enemy has been attacking you all this time.
First of all my Sister I don't know the case well enough to help you only by what Brother Branham said in the Message, there is no place in this Message that give you and this man a place to be married for if he has a living wife he must stay with her until death do they part, or live separated, but he cannot remarry, and he sure cannot live and have sex with another woman during that time as he is a married man in the sight of God, and he commits adultery if he does, and he would cause you to commit adultery as well if you lived with him. As I said I don't know the case, but that is what the Message says.
Now if you live with this man then you are guilty as he is also, so don't do this my Sister but live a clean life, and ask God to forgive you of your past times with him and tell him you are going to live a clean life to the Lord, and just place it all in His hands, and go ahead with Jesus, and He will take care of it all
If this man is a minister, and has a living wife then his church will have to deal with him on that for I sure don't see how he can do this in this Message, but I don't know the case as I said, but make sure your life is right with the Lord, and go forward with Him, and He will take care of you my Sister. Ask Him to forgive you and go forward, and don't look back.
God bless you, and I sure enjoyed being with you all at the meetings there and the Lord sure gave us a great time together, and I had a little accident in San Paulo when I was there and got robbed and mugged on the streets and I am just now getting off my crutches, but thank the Lord no broken bones, it was just by His grace to me that I was not killed there. Pray for me, and we will for you also.
Yours For Jesus;
Bro. Billy Paul Branham
Footnotes