Can you tell if someone has the Holy Spirit?
Translate page into: español, Deutsch, français, italiano, português do Brasil, polski, română, русский, Nederlands, norsk, svenska, suomi, हिन्दी, ਪੰਜਾਬੀ, Tagalog, తెలుగు, Afrikaans, isiZulu, Kiswahili, 中文, Ikinyarwanda, ikirundi
Click on headings to expand them, or links to go to specific articles.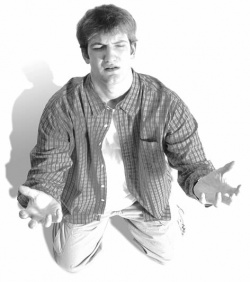 Can you tell whether someone has the Holy Ghost? William Branham clearly was conflicted here because he couldn't seem to make up his mind.
No - you can't tell
From a question posed to William Branham:
To which William Branham responded:
Yes - you can tell... or at least William Branham could
In 1959, William Branham statedL
And then in 1962, he said:
Yes - you can tell by the fruits of the Spirit
In 1963, it was clear that William Branham believed that the presence of the fruits of the Spirit indicated whether a person had the Holy Spirit or not:
No - the fruits of the Spirit aren't the indicator
Just 10 months later, in January 1964, William Branham again changes his mind:
Yes - the evidence of the Holy Spirit is believing William Branham
A month later, William Branham appears to have changed his mind once again.
This time he pointed to himself as the only way to receive the Holy Spirit. Not the fruits of the Spirit, not simply believing and accepting the Spirit of Christ as was promised to all believers. You have to believe William Branham. Is that really scriptural?
And if someone says they believe William Branham but covers up the sexual abuse of a minor (as the pastor did in the church we attended), do they have the Holy Spirit? You think????
Wait... I was wrong... Yes, you can tell by the fruits of the Spirit
Just prior to William Branham's death, he appears to have reverted to saying that the fruits of the Spirit are key:
Footnotes